Find how Alltech Coatings is using video to give them an edge over their competitors
Alltech Coatings - Video Case Study
Thuy, the co-founder of Bosstradie, and Jared, who is the Managing Director at Alltech Coatings share their thoughts on working with us and show how they're using video to gain an upper hand in their business.
Alltech Coatings is a Brisbane-based high-access painting company.
INCREASE SALES CONVERSION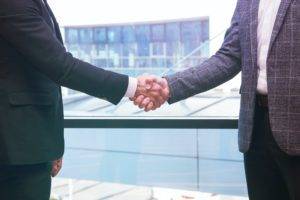 Generating more revenue from sales doesn't always require getting more leads. Optimise your client acquisition by converting more of the traffic you're already generating to your website.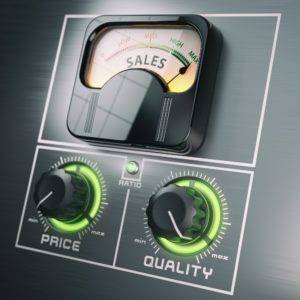 Demonstrate the value you bring to the table and create unique positioning so that your prospects will no longer compare you against others on price, but on value instead.
HANDLE SALES OBJECTIONS BEFORE THEY COME UP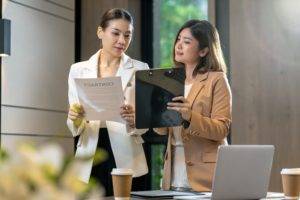 Businesses often lose out because their prospect is simply not educated enough to make the right decision. Overcome this obstacle by using video strategically in your sales process.
What Were The Biggest Challenges?
Every video project we take on has a clear end goal. And that is to permanently solve very specific problems for our client's business.
So here's how Jared himself describes what Alltech were trying to solve.
"We have a challenge in that the people who make the decisions on whether or not to choose our services often, aren't the people who we've met during the sales process. So we repaint a lot of high rises. We meet the building manager who shows us around and we do the quote. And then that quote essentially just becomes like a written piece of paper. And that's given to a body corporate committee who all sit around a table and vote on which company they want to go with. And they're comparing this piece of paper with that piece of paper, and they're both faceless companies. And so it's no surprise that more often than not, it just comes down to the lowest price".
When decisions are made purely on price. It's usually down to one or all of three reasons.
The buyer doesn't fully understand the value of a service being provided. This leads them to compare all options based on price alone.
They don't know about the pitfalls of making the wrong choice. Often a cheaper service provider can win a project because they cut corners in the final delivery. But that comes with associated risks, which can cost the buyer more than their initial saving. But they don't know it yet.
They haven't built a know/like/trust relationship with any of the bidders and thus see all of them as commodities.
First we created a three-minute 5D story video that did exactly that. It captured the essence of what Alltech is all about, showed how they are unique, created a connection with the audience through their story and showed the value of how their customers benefit from their uniqueness.
This video is now used not only in Alltech's proposals helping them stand out, but is also central to all of their communications, so people can experience working with them before they've met.
We then made 4 other videos that answered typical doubts and fears that their audience already has about Alltech's industry. Fears about costs, not knowing when to look for a painter, what to look for in one, etc. 
Alltech can now use these videos to drive traffic to the website.
The reason these type of videos are so effective is that they are designed to enter the conversations that are already happening inside the viewer's mind about their problems. By answering these questions upfront, Alltech is able to build trust and confidence before people even visit their website.
Once people have watched the videos and are guided to Alltech's website, they are greeted by the 5D Story Video.
This is where trust is built, shows  Alltech's uniqueness, and then guides them to the next stage in their sales process. 
This will help Alltech Coatings increase their conversions to enquiries and sales as the video pre-frames these conversations. All our clients get a step-by-step implementation plan for every video we make.
This is what Jared had to say about the videos and the strategy:
"We've got a video and we can put that link in the email or we have software where we can embed it into the quote itself. We have a chance of actually then sending that out prior to the meeting and putting a face to the name of the business and building a connection in a way that, they might feel a bit more compelled to choose our services. Because they feel like they know us and can trust us.
Enables us to not just talk about it on a piece of paper, but actually show them. They can see our team working in action. They can hear the passion behind our brand and what we do".
He continued…"It's definitely going to take our business to a new level and it's going to help us get a lot of clients. Yeah. We got to get a bottle of champagne and celebrate because it's awesome. It's just something that we can be really proud of. Can't wait to show everyone".
Here's what Thuy had to say about it…
"They (prospects) are gonna get to know who we are by that story. And then when they're on the phone with us, I think they'll feel more comfortable and we won't have to really sell ourselves as much because the video really has it all". 
Why Alltech Coatings Chose To Work With Us?
From our first meeting all the way to production and delivery, things moved fast. Jared had watched our 5D Story Video and wanted us to do something similar for Alltech.
So I asked Jared what was it about the video that made Alltech decide to work with us?
This is what Jared had to say: "I just hadn't seen anything like it before I instantly connected with that video, and your message. And so then I instantly assumed that you'd be able to do the same for us.
I think about things in a way that might be a bit different to a lot of business owners. For instance, like if I'm looking to get a website designed and someone approaches me and they're only charging say $1500, $2000 to build a website, my first instinct is that, okay, you're not able to build something that markets yourself in a way that you can get a higher ticket for your services. 
Therefore you're not going to be able to do the same thing for me. So, it's somewhat of a process of elimination. You know, there are these companies pumping out, just cheap marketing videos. If they're not capable of selling their own services in a way that they get what they're worth, then they can't do it for us. 
 I look at opportunity costs more than anything. So you spend a couple of thousand dollars on something that doesn't have an effect that's that's money down the drain, spend it on something that then, you know, brings in half a million dollars in extra revenue, it's a much better deal".
The key takeaway here is that video is no longer just a numbers game. Creating a lot of videos and hoping some will work is not a strategy that's effective any more.
To make video work for your business, the key is in starting with the problem that you're trying to solve.
Most sales problems are communication problems. By first, identifying the roadblocks and then using the most engaging medium of communication that is video, you can solve these problems once and for all, for your business. 
And once solved, by integrating the videos into your sales process, you permanently change the way in which people buy from you and perceive your brand.
Want to work with us?
If you're ready to leverage the power of video to grow your business, then fill out our Discovery Form. If we know we can help you, we'll arrange a free 45 minute strategy session, where we'll show you how a bespoke video strategy built around your sales process will unlock its true potential.